The first update of the new year is a bumper one. Noteworthy features:
Timeline integration
This'll be more significant for those working in 3D, but the Timeline integration is now much more robust - and should make it much more feasible to rely on Timeline for your cutscenes. This update provides improvements to AC's Timeline integration in three key ways:
A new "AC MainCamera" track allows you to control which GameCamera that MainCamera is snapped to along a Timeline. Similar to the way the Cinemachine Brain track works, this also supports blending between clips and between the track itself - so you can transition smoothly to and from your regular gameplay camera.

A new "AC Speech" track allows you to trigger character dialogue, which can be voiced and translated via the Speech Manager as normal.

The Engine: Control Timeline Action now allows you to remap individual track bindings, without affecting all others at the same time.
To demonstrate these features, the 3D Demo has also been upgraded to rely on Timeline for its opening and closing cutscenes. It plays essentially the same (the jokes are still bad, I'm afraid), but the ActionLists controlling the cutscenes have been greatly simplified as a result. I've personally found it much easier to build and time cinematics using this tool, over using Actions to control everything. To check out the updated demo, download AC from the Asset Store in Unity 2018.3.
The Manual's new "Working with Timeline" chapter covers this all in more detail, but here's a brief video to show these features off as well: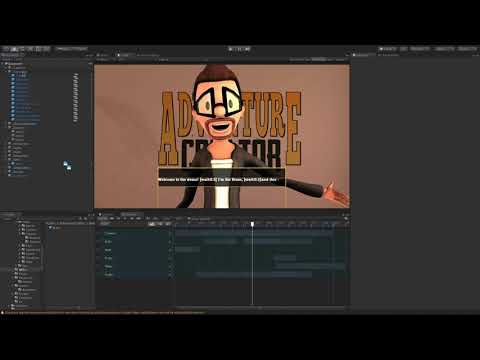 Custom sprite directions
The Multiple directions? and Do diagonals? options for Sprites Unity-based 2D characters have been merged into the new Facing directions popup field. This allows for a new option.. "Custom"! With this mode, you can hand-pick exactly which directions such a character can face: limiting to just e.g. up-right and down-left, if you so desire.
Voice asset bundles
The "automatic" method of linking speech audio and lipsync files to dialogue lines has traditionally involved placing them in a Resources folder, which is quick to set up but not so great for memory efficiency. A new option allows you to place such files in a Unity asset bundle instead, which is more efficient and should improve startup times. A tutorial on getting up and running with this feature can be found here.