Hello,
This AC tutorial was followed to create a screen resolution option in the Options menu:
https://adventurecreator.org/tutorials/adding-screen-resolution-option
I was wondering what the expected behavior when clicking the "ScreenResolution" cycle element should be. Is the resolution intended to change on each single click? The menu's cycle element updates the displayed resolution upon each click during "Play mode".
Though when building the game / running it, the cycle element needs to be clicked on twice (or more times) for it to actually change the resolution.
For instance, while testing on my laptop, the first click feels like it "selects" the menu element. Then a second click results in the resolution change.
Testing on another desktop computer, it changes the resolution after one, two, three, or four clicks.
It feels like it's cycling through a list of resolutions in the background, then finally changes when it lands on one that it displays.
For example, it takes 4 clicks to go from 640x480 to 720x400.
2 clicks from 720x400 to 800x480
4 from 800x480 to 800x600
4 from 800x600 to 832x624
2 from 832x624 to 1024x600
3 from 1024x600 to 1024x768
3 from 1024x768 to 1152x864
2 from 1152x864 to 1152x872
2 from 1152x872 to 1280x720
1 from 1280x720 to 1280x768
2 from 1280x768 to 1280x800
2 from 1280x800 to 1280x960
1 from 1280x960 to 1280x1024
1 from 1280x1024 to 1400x1050
2 from 1400x1050 to 1440x900
Then 2 from 1440x900 back to the first value 640x480
As this is a visual issue, here's a video. After experiencing this in my game, I made a brand new fresh "test" game, and re-created the Screen Resolution Option to see if it still did the same thing (which is does), as the video shows: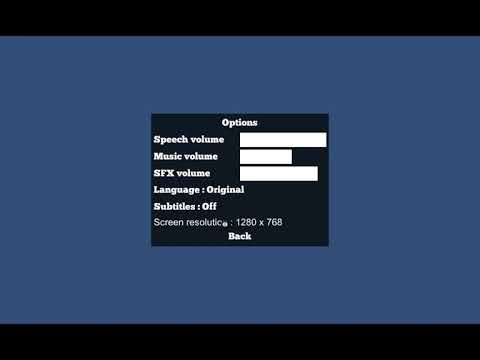 This test is using Adventure Creator as the Option menu's source. And it does the same thing with my actual game's menu created in Unity UI. Using AC 1.70.4 and Unity 2019.3.7f1.
It also has a sort of "flicker" each time it's clicked to select it, which I'm wondering about.
One other question while thinking about it:
The tutorial mentions to put SetupOptionsMenu.cs on an empty GameObject in the game's first scene. Does this mean that it only needs to be placed on the first scene of the game that appears when it opens (e.g. a title-screen menu, etc.). Or would it also need to be on every other scene of the game?
One thing I wondered about when testing the game (typically only individual scenes at a time), the GameObject should be on the scene being tested -- since it's the first scene in that case.
Anyone else gone through the tutorial and experienced this? Thank you very much for any assistance!